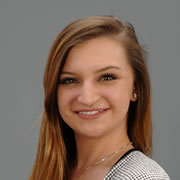 About Emily Bennett
Emily is a young adult and Paulding county native who is finding her passion in helping people. While she has lived in and around the Dallas and Hiram area her whole life, she has also enjoyed traveling throughout the East Coast, Midwest, and Europe. She loves meeting new people and making a positive impact wherever she can.
Emily graduated from East Paulding High School in 2015. During her school years she was actively involved in DECA, an organization that prepares emerging leaders and entrepreneurs for careers in marketing, finance, hospitality, and management. Her leadership qualities became apparent early on, and in 2013, she held the position of DECA secretary for East Paulding High School.
After graduating, Emily worked in the insurance industry where her duties included social media and other marketing and administrative duties. Shortly thereafter she joined Terri Schrews Realty Professionals. Her position is a great fit for her because it is an industry that she has grown up around all her life. As a child, her mother would bring her into the real estate and mortgage offices she worked in. Emily always found the environment to be exciting and for her, being in real estate feels a bit like home.
Emily serves as a marketing and administrative assistant. She brings a positive attitude and desire to learn to everything she does and is a great asset to the Terri Schrews Realty Professionals Team.